FI: The flow of product and article information
The ePrescription database includes all the necessary and current information that is needed in prescribing and delivering medicines. The ePrescription database contains pharmaceuticals (preparations with a Vnr number) and preparations without a Vnr number (preparations with a temporary special sales license and reimbursed emollients and reimbursed clinical nutrient preparations).
The content of the ePrescription database is covered in section 22 of the Act on Electronic Prescriptions (laki sähköisestä lääkemääräyksestä 61/2007). Social Insurance Institution of Finland (Kela) maintains the ePrescriprion database. Finnish Medicines Agency (Fimea) delivers the information needed for identifying the preparations.
The content of the ePrescription database and the communication to the Kela is covered by section 8 of the Decree of the Ministry of Social Affairs and Health (485/2008).
The Pharmaceutical Information Centre provides the ePrescription database for Kela.
The holder of the marketing authorization, the manufacturer or the importer must communicate the wholesale prices of
pharmaceuticals
preparations with a temporary special sales license
reimbursed emollients
reimbursed clinical nutrients
to the Pharmaceutical Information Centre, which, under commission from Kela, serves as the technical administrator of the database in respect to pharmaceuticals.
The information must be communicated no later than 8 working days before the 1st and 15th of the month in question by 4 pm Finnish time. The more detailed communication schedule and instructions can be found in Vnr extranet service (https://vnr.fi).
All the notification forms can be filled in the Vnr extranet, Notification forms. (https://vnr.fi). From there you can choose the notification form needed on the left side of the page.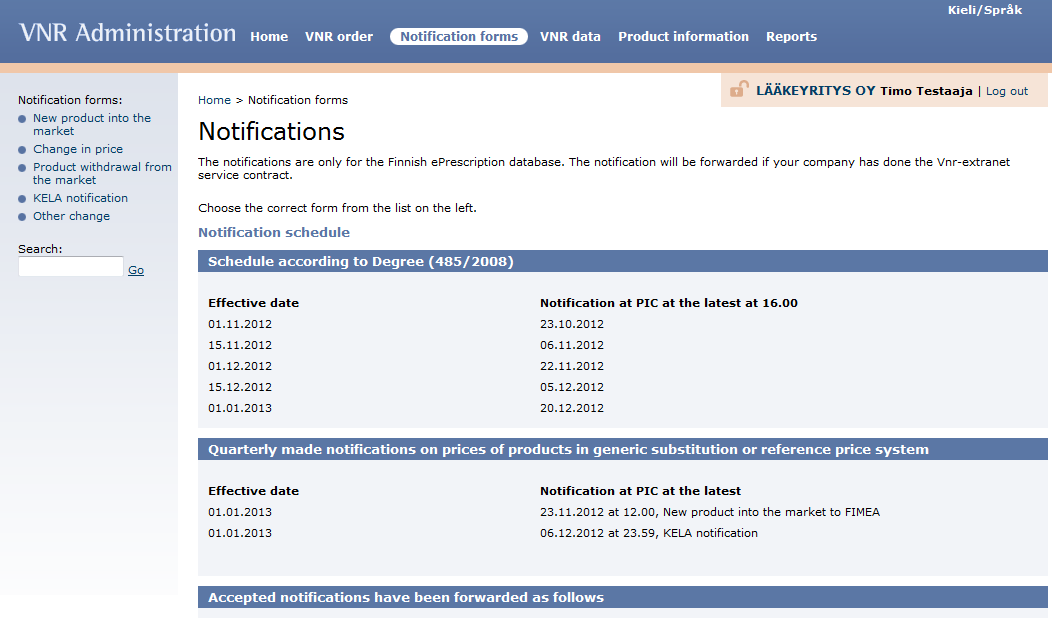 The communicating party is responsible for the accuracy of the price information communicated.
In addition to the Vnr extranet service the "New product into the market" and "Product withdrawal from the market" -notifications must be communicated to the Fimea and the "Change in price" -notifications to the wholesaler in question, The Association of Finnish Pharmacies and to the University Pharmacy. Kela notifications must be made quarterly of the prices of substitutable pharmaceuticals and of pharmaceuticals covered by the reference price system.
Due to the upcoming Falsified Medicines Directive, a new medicines verification notification was introduced in the Vnr Service 18.6.2018. Pharmaceutical companies make this notification like other notifications. Pharmaceutical Information Centre delivers the information of the notifications to wholesalers and pharmacy/hospital pharmacy system suppliers to ensure efficient and reliable action.
Companies with a Vnr-extranet service contract
The Pharmaceutical Information Centre will deliver the information in question to the University Pharmacy, the Association of Finnish Pharmacies, sales statistics (Finnish Pharmaceutical Data and IMS Health Finland), wholesalers (Oriola, Tamro, Magnum medical), the Social Insurance Institution of Finland, the Pharmaceutical pricing board and FIMEA on behalf of companies that have a Vnr-extranet service contract. Pharmaceutical Information Centre is responsible for the delivery of data to only those third parties mentioned above which are entitled to this information before it becomes public.